EASY SQUEEZE MOP
Regular price
$45.99 USD
Sale price
$39.99 USD
Unit price
per
The original Easy Squeeze Mop takes the back breaking work out of mopping floors, walls, hard to reach places etc. With a simple push of the handle squeezes excess liquid out microfiber pad.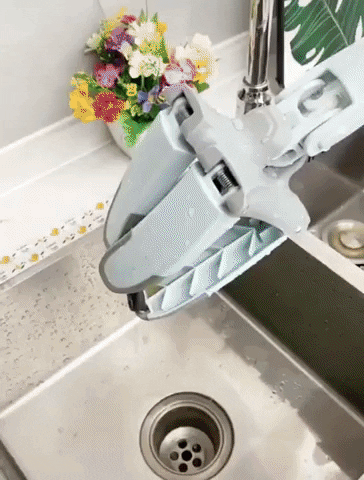 TOP FEATURES TO LOVE
HANDS-FREE WRINGING
5X MORE ABSORBING POWER
RE-USEABLE MICROFIBER PADS
FREE BRUSH IN HANDLE
MACHINE WASHABLE PADS
LONG HANDLE TO REACH PESKY WEBS & TIGHT SPACES
NO NEED TO TOUCH THE MOP HEAD DURING CLEANING!
     Mop head does all the work for you. Make quick and easy cleaning a part of the routine you deserve it!
NEVER SCRATCH SURFACES AGAIN!
The Gentle microfiber cloth is tough on stains and gentle on most surfaces that never leaves behind streaks while attracting dust, hair and debris easily. 
GET THOSE PESKY PET HAIR/FUR SUPER EASY
The microfiber is designed to lock hair in without dragging and leaving it in all over the floors, use the

FREE BRUSH

to help scape away debris .
REMEMBER!
Remember to give extra love to behind the toilet, tight spaces and corners; having the right tool makes it that much easier! 

Package Includes:
1 x Mop
1 or 3 pads depending on your selection
Color may vary
FAQs
Question: How does mop wring water out?

Answer: Simply by pushing down the handle.

Question: How many pads comes with my order?

Answer: You will get 3 microfiber pads based on your order selection

Question: Are pads machine washable?

Answer: Yes, they are made with strong fabric and are machine washable.

Question: Can I use any cleaner?

Answer: Yes you can use your cleaner of choice.
Question: Do I get a tracking number?
Answer: Yes, most orders are tracked with UPS, Fedex or USPS and issued a tracking number
Question: How can I contact customer service?
Answer: We are happy to answer any questions you may have at sales@easysqueezemop.com

Share